MEN'S CLASSIC PHYSIQUE 2016
The National Physique Committee announces the creation of a new division called Men's Classic Physique. Competition will take place in the following categories:
Click to view Classic Physique Height and Weight requirements
Mandatory Poses
The Judging is scored 100% and will consist of comparisons of the quarter turns and the following "5" mandatory poses: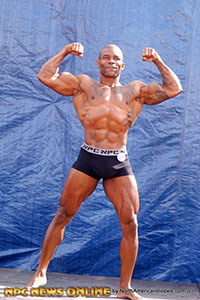 Front Double Biceps
Side Chest
Back Double Biceps
Abdominals and Thighs
Favorite Classic Pose  (No Most Muscular)
Click HERE FOR 2016 NPC CLASSIC CONTEST PHOTO GALLERIES TO SEE POSES
JUDGING FINALS
The Finals will consist of:
·      Posing Routine (up to maximum of 60 seconds)
·      Confirmation round  (if necessary)
·      Posedown (overall title only)
COMPETITION WEAR
Competitors are required to wear posing shorts. You are "NOT" to wear board shorts or Bodybuilding posing trunks. We have provided an image of the NPC Competition Classic Physique shorts below. Competitors are required to wear the same type of cut and all shorts that are worn in competition must be black.  Click Here For Classic Contest Photos
NPC CLASSIC PHYSIQUE COMPETITION WEAR!
Click Here To Order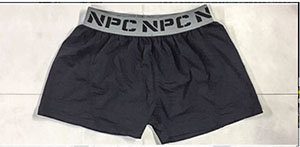 Click Here For Classic Contest Photos
Here are additional links  where the Men's Classic Physique Shorts can be found;
 http://www.npc-wear.com/product_detail.cfm?id=344
http://www.npc-wear.com/product_detail.cfm?id=345
 http://npcnewsonline.com/npc-news-update-the-new-npcifbb-classic-physique-shorts/239439
   CROSSOVERS
In 2016 NPC Classic Physique Athletes will be allowed to crossover and compete in  additional divisions. This way you can choose where you currently fit the best.
 Qualifying For NPC National Contests      
 In order to compete at a National contest in 2016, for the Jr USA and JR Nationals, an athlete must have competed in any NPC Contest. For all other Nationals shows including the Universe, Teen Collegiate Masters, USA, North American and Nationals an athlete must have competed in a NPC Classic Physique event. No other qualifications are required.
Classic Physique Posing Video Tutorial
We will be adding additional classic physique posing videos throughout the year to help you make sure that your posing is on point.
NPC Men's Classic Physique Posing Tutorial With IFBB/NPC Head Judge Steve Weinberger 
Download